A blog by Dr. David B. Gowler (Oxford College of Emory University) about the reception history of the parables of Jesus. It includes reflections on issues from three of my books on the parables: What are They Saying about the Parables? (Paulist), The Parables after Jesus (Baylor), Howard Thurman: Sermons on the Parables (Orbis).
Thursday, August 23, 2018
Tuesday, August 7, 2018
I received word yesterday that my audio recording about the importance of the parables of the Good Samaritan and Prodigal Son in Dr. Howard Thurman's life and thought ran on over 200 NPR stations yesterday. It also appears in The Academic Minute and in Inside Higher Education:
You can find the audio and the transcript here.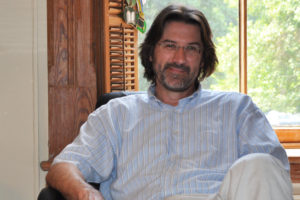 Who was Howard Thurman?
David Gowler, professor and chair of religion at Oxford College of Emory University, discusses Thurman's influence beyond being an influence to Martin Luther King Jr.
David B. Gowler is The Dr. Lovick Pierce and Bishop George F. Pierce Chair of Religion at Oxford College of Emory University; senior faculty fellow at the Center for Ethics, Emory University; and the author of "The Parables After Jesus: Their Imaginative Receptions Across Two Millennia."
"The Work of Christmas," by Howard Thurman   Howard Thurman's poem, "The Work of Christmas" is my favorite Christmas poem, and I p...
Good Samaritan mural, St. Catherine's Monastery (4th century)   Can you find the Good Samaritan's "animal" (Luke 10:...

"St. Augustine Teaching Rhetoric," Jan van Scorel (1495-1562) Augustine's pre-Christian life affected his inter...